is an ejaculatory utterance lacking grammatical connection,
an involuntary cry expressing feeling rather than meaning.
is an Out-of-home (OOH) campaign.
a physical performance retelling private conversations.
operates like advertisements that regularly insert themselves into public spaces bearing false witness and true accounting in the same utterance.
Den første sekvensen spilles av før de fleste har startet dagen. Grytidlig om morgenen er Torvet et øde sted av stein og betong. Her samles man vanligvis for å feire noe, møtes eller handle, i lag eller hver for oss – aldri ensomt. Men nå er det ensomt, og litt kaldt. Til og med måkene er fraværende. Det eneste som lever er skjermen.
Skjermen henger rundt fem meter over bakken og flimrer i iøynefallende farger som rødt og refleks-grønt. Men så. Et åpent hav og en lang, hvit strand med små menneskegrupper. Det er Katherine Butchers videoverk
ohh
. Her skimtes bare noen få skyer i horisonten. Lange rolige bølger duver innover mot tilskueren. Kameravinkelen har fugleperspektiv slik at man får inntrykk av å sitte på et slags utkikkspunkt. Ganske snart oppdager jeg en skikkelse på stranden, midt i bildet, som vinker mot meg. Begge armene veiver i været, kanskje som et typisk "hei vi sitter her nede, kjære". En tekst med stor, hvit font ruller samtidig over skjermen. Sekvensen er over og jeg er tilbake på Trondheim Torg. Jeg er kanskje fortsatt ensom, men jeg sverger på at jeg kjente en svak lukt av solkrem og havsalt;
ohh
.
-
Minikritikk
Aksel Langum Øien
28.04.2021
The first sequence is played before most people have started the day. Early in the morning, Torvet is a deserted place of stone and concrete. Here you usually gather to celebrate something, meet or shop, in teams or for each of us - never alone. But now it's lonely, and a little cold. Even the seagulls are absent. The only thing that lives is the screen.
The screen hangs about five meters above the ground and flickers in eye-catching colors such as red and reflective green. But then. An open sea and a long, white beach with small groups of people. It's Katherine Butcher's video work
ohh
. Here only a few clouds can be seen on the horizon. Long calm waves roll in towards the spectator. The camera angle has a bird's eye view so that you get the impression of sitting on a kind of vantage point. Pretty soon I discover a figure on the beach, in the middle of the picture, waving at me. Both arms wave in the air, perhaps like a typical "hello we are sitting down here, dear". A text with a large white font scrolls across the screen at the same time. The sequence is over and I'm back at Trondheim Torg. I may still be lonely, but I swear I smelled a faint odor of sunscreen and sea salt;
ohh
- Translation of
Minikritikk
Aksel Langum Øien
28.04.2021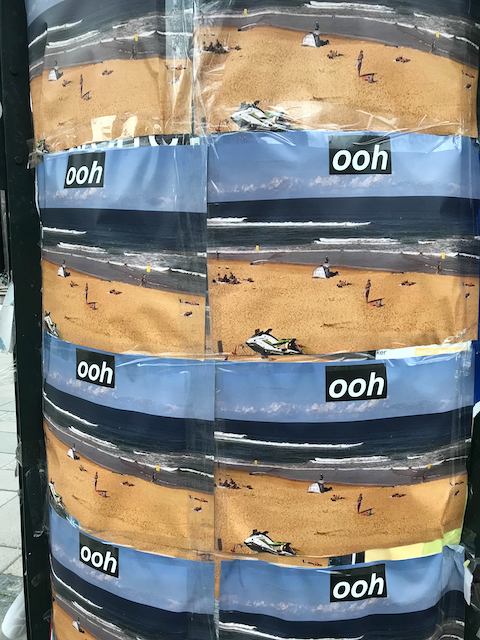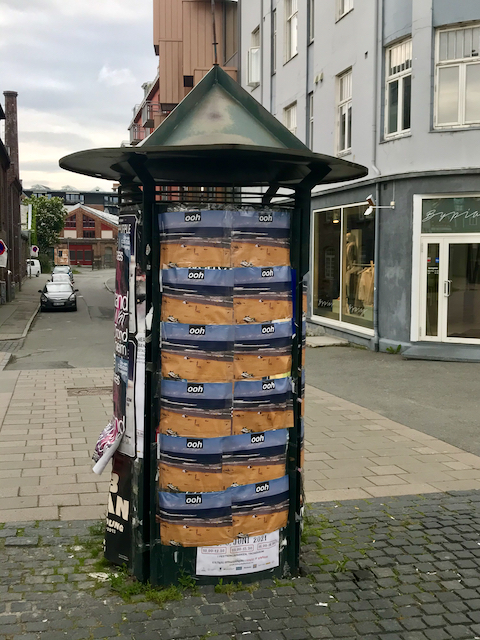 A regular phone call is formulated into a staged rendezvous. The artist wakes early in her apartment in Trondheim to 'meet' her sister at their favourite beach. ooh is filmed in fixed Extreme Long Shot, capturing the staged movements of a pregnant woman standing on a beach in a flowing dress and later in her bikini. She is placed in centre shot with her back to the waves, directing her attention to the camera, sometimes breaking into large signalling gestures, as if calling her sister to come closer.

One-sided short lines touch on a range of disjointed topics including pregnancy complications, Covid-19 research, HIV lab design, the recent breakup video Epilogue by Daft Punk, plantar wart remedies, sleep troubles, wind direction and longing. The text appears in simplified bold black and white subtitles at the top half of the frame and is arranged into free verse septet (seven line stanzas) poems over eight acts.

ooh: performance ritual for the scheduled duration of film at 07:00:00-07:60:10) timing the film was created (time difference)

Ritual: how belief and ideal are simultaneously generated, experienced and affirmed as real...yet, at an unspecified distance.

The backdrop to the film is impending outcomes - her sister's last pregnancy ended in an early induced birth and the death of the artist's niece.
Having a sister or a friend is like sitting at night in a lighted house. Those outside can watch you if they want, but you need not see them. You simply say, "Here are the perimeters of our attention. If you prowl around under the windows till the crickets go silent, we will pull the shades. If you wish us to suffer your envious curiosity, you must permit us not to notice it." Anyone with one solid human bond is that smug, and it is the smugness as much as the comfort and safety that lonely people covet and admire.
― Robinson
LOOK AT ME / LOOK THROUGH ME

19.04 – 02.05.2021

Digital performance and film program by five local artists screened at Trondheim Torg, Tempe Atelier, and online

Katherine Butcher

Amalia Fonfara

Hanna Fauske

Unnur Andrea Einarsdóttir

Ana Dunjić

TEMPE #6 questions how art makes connections to site, people, and time through different formats of expression, tackling serious issues such as responsibility, accountability and care with humour, sensitivity and the absurd.

Curated by Agnieszka Foltyn

Poster design by Joana Bruno
Supported by Trondheim kommune